I was hardly old enough to gamble when I found myself deeply intrigued by a casino's latest campaign. In addition to the chance of pocketing some minor gambling winnings, they were giving away an incredible camera that had the potential of igniting a spark of passion that, up until that point, was laying dormant inside of me.
It had never really crossed my mind that I enjoyed photography until about that time in my life when I discovered that I had a slim chance of taking home my very own professional grade camera. I had always been the type to carry a dinky little camera around with me whenever I went on a hike or out on a day trip, but for many years, I probably wouldn't have even called myself a hobbyist.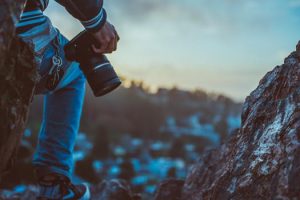 Rather, I suppose photography was something that was just so engrained into me that my camera was like a third eye. Or perhaps it'd be better to describe it as my alternative second eye, because I constantly found myself squinting through the lens, as if winking at the scene I was capturing and thanking it when the lighting turned out just right.
Needless to say, I had never invested in a quality camera for myself. I made do with what I had and I never really took the time to figure out what would make my photos look better. I had an impressive collection of "borderline amateur" quality photos that I had taken through the years that always surprised my friends, but the secret was that these few dozen photos had been lucky picks out of thousands upon thousands that I had taken through the years.
After all, if you're rolling a pair of dice, you're going to come up with doubles eventually. And, it was probably this exact same "eventually I'll strike luck" type of approach that led me to playing a few rounds online to see if I could win that camera for myself. The second I saw it, I knew I had to find a way to call it mine–no matter how many dice I had to roll!
Fortunately, I did happen to run into a stroke of luck during the campaign. Things lined up perfectly and I was awarded with my first professional camera, one that would turn my tiny spark of passion into a roaring fire, a fire that nothing could blow out. And it's a good thing too, because many things have blown on the flame over the years and threatened to put it out–yet they've only made it stronger in the long run!
After getting my camera, I finally learn the secret of being a "lucky" photographer: practice and skill. I stopped taking a thousand photos just to get a good one at random and I instead began honing in on the lighting, the framing, and all the other aspects that a photographer has to take into account to get a quality shot. Ten years ago, I'd have to take a hundred photos to get a presentable one. Today? I'd say two out of three isn't that bad.